Parts & Services is a location of
Five Nights at Candy's
, It's the starting location of
Old Candy
.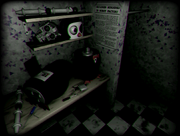 Appearance
Cam 10 is most likely a Parts/Service Room, It contains various spare parts from an endoskeleton and The Penguin. The spare parts are placed on a table, This room has purple small triangles painted on the wall (Like most of the game's rooms) It contains Endoskeleton parts, The Penguin parts, And a blue screwdriver, It also has a black-white checkered floor, Notice that the floor looks like it's dirty, Probably grease from the spare parts.
Trivia
This room looks like it only contains parts for The Penguin.

It also contains endoskeleton parts but are most likely endoskeletons used for The Penguin.

On the wall of the Room, a newspaper can be seen pasted in the wall, Which says "Children murdered in Robot Factory" The words below are almost unreadable as they're too small and the quality is bad.
Gallery